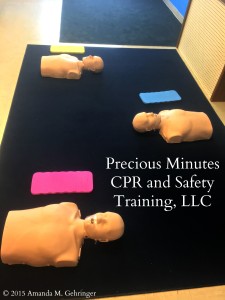 Get in touch today to register, ask a question, or for more information. Don't worry if you don't know exactly what you're looking for or what class you need, we will quickly and easily guide you.
EMAIL: Amanda@PreciousMinutesTraining.com
PHONE: (215)430-3878

SOCIAL MEDIA:
Facebook: www.Facebook.com/PreciousMinutesTraining

PMCST is located in Warrington Township, Bucks County, Pennsylvania.
We will also travel to your location anywhere in Bucks or Montgomery County for groups of 3 or more. Or groups of 5 or more to the surrounding counties of Philadelphia, Delaware, Chester, Berks, and Lehigh.
We frequent Indian Valley Public Libarary in Telford on the line between Montgomery and Bucks County, and we are happy to reserve a small or large room for one-on-one's or larger groups there.
We will travel outside of Southeastern Pennsylvania for groups of 6 or more, please contact the owner, Amanda, at (215)430-3878.