2019 UPCOMING PUBLIC CLASSES:

Updated: October 18th, 2019
Session #1: Sunday November 10, 2019 4-6pm
Session #2: Sunday November 24, 2019 4-6pm
Location: SafeTec Training Services – 2793 Bristol Pike, Bensalem, PA 19020
Price: $60/participant. Payment link is under "Tickets" above.
Note: Participant must attend both sessions to receive certification.
*Parents MUST register and pay in advance to save their child(ren)'s spot!*
---
Private Class Pricing:
Contact owner for details (215)430-3878 or Amanda@PreciousMinutesTraining.com
Varies on group size and location – small groups (2-4 participants), medium groups (5-9 participants), large groups (10+), private business, public or community organizations, etc.
---
♥ Babysitter Lessons and Safety Training is a classroom based, hands-on program designed by the American Academy of Pediatrics and perfected by PMCST. BLAST is essential for potential babysitters and parents considering hiring a babysitter. The BLAST program is exciting and interactive, providing extensive training in pediatric first aid, household safety, and the fundamentals of childcare. Including:
Most current practices for safety and injury prevention while babysitting
First Aid basics for emergency response
Quick reference tools for babysitters
Fun, easy to follow booklet
Designed for ages 12 and up (and some mature 11 year olds) the BLAST program can prepare children to interview for a babysitting job, select safe and suitable games and activities, prevent accidents, perform first aid, and begin babysitting safely and competently.
Participants will practice their infant care skills on manikins so they can feel as confident as possible.
Lesson 1: Getting Started
"Are You Ready to Care for Children?", Sitter Qualities, Being Prepared to Answer Questions, Be a Good Guest!, As They Grow: Ages & Stages, etc.
Lesson 2: Safety First
Before Saying "Yes" to a Job, A Few Important Points, When a Stranger Calls, House Rules and Routines, Safety Rules, Fire, etc.
Lesson 3: Sitter Basics
Diapering, Bottle Feeding, Burping a Baby, Spoon Feeding Baby/Toddler, Crying, Preparing for Bed, Behavior Problems, Discipline, Sitter's Checklist, etc.
Lesson 4: First Aid/CPR/Choking
What is an Emergency?, Calling 911 for Help, CPR for a Child or Infant, Choking: Child, Choking: Infant (Under 1 Year of Age), Bleeding and Shock, Bone/Joint/Muscle Injuries, Breathing Difficulties, Burns, Diabetic Emergencies, Diarrhea, Dog Bite, Electrocution, Eye Injuries, Fever, Head Injuries, Insect Stings, Nosebleed, Poisoning, Seizures/Convulsions, Tooth Knocked Out, Vomiting, etc.
Lesson 5: First Aid Kit and Recommended Supplies
Lesson 6: Kid Fun
Games & Songs, Sitter's Busy Bag, etc.
---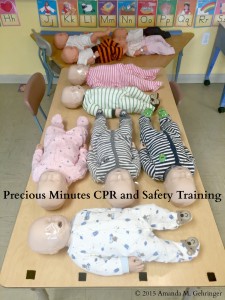 Note (& Discount): ECSI's BLAST course does not contain a full CPR course certification. The course only recommends discussing these techniques, whereas PMCST goes a step further and has BLAST participants practice these techniques. A full CPR/AED course is also highly recommended for babysitters. Because we feel so strongly about this, any participant along with the parent(s)/guardian(s) of a participant of a Precious Minutes CPR and Safety Training's BLAST course receives a 20% off discount on an American Heart Association Heartsaver CPR/AED course within one year of receiving the BLAST course training.