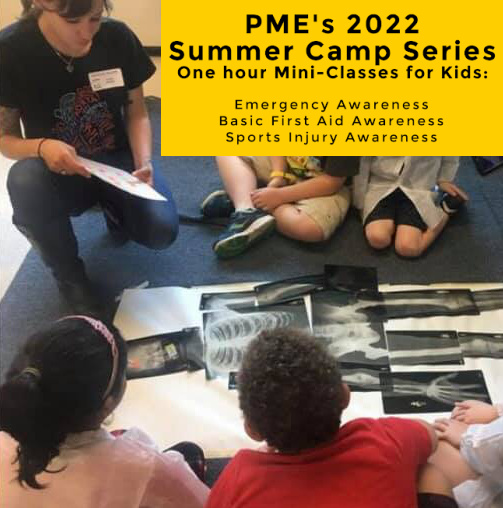 Southeastern Pennsylvania! We are now scheduling for our 2022 Summer Camp Series of ONE HOUR Mini-Classes for kids ages 4 through 14.
Classes are fun and age appropriately tailored to age group (ages 4-5, 6-8, 9-10, 11-12, 13-14), not one size fits all.
EMERGENCY AWARENESS:
PME's Emergency Awareness Mini-Class is designed for the younger campers and is an introduction into Emergency Medical Services (EMS) from an active EMT and EMS Educator and the 911 Communications System from a former 911 Dispatcher. How and why they would call 911, and invaluable tips if faced with a real-life emergency. Campers are also given an exciting introduction into the human body (bones, organs, body systems – cardiovascular/respiratory/digestive, etc.) with activities that will have them moving and learning. Never scary, only fun – campers will leave their session with a newfound confidence and personal preparedness.
Mini-Class ends with a Q&A Session.
$75 per Emergency Awareness Mini-Class.
BASIC FIRST AID AWARENESS:
PME's Basic First Aid Awareness Mini-Class is designed to give an overview of common illness/injuries children can face when out-and-about, as well as some universal First Aid tips and tricks from an EMT, how to treat and get help, and how to recognize a true emergency.
Note: Never excessively gory, but this class is not suggested for any child who has a fear of blood or medical emergencies, or may become upset by discussing subjects like nosebleeds, vomiting, or external bleeding.
Mini-Class ends with a Q&A Session.
$75 per Basic First Aid Awareness Mini-Class.

SPORTS INJURY AWARENESS:
Hockey – Soccer – Football – Baseball – Softball – Dance – Cheerleading – Field Hockey – Basketball – Tennis – Golf – Cross Country – Track & Field – Wrestling – Karate – Rock Climbing – Snowboarding/Skiing – Hiking – and more!
PME's Sports Injury Awareness Mini-Class is custom designed for an individual sport specifically or an overview on a selection of 2-3 sports and will cover the common traumatic injuries found in each particular selection. Including prevention techniques, concussion safety, and environmental emergencies (dehydration and heat cramps/exhaustion/stroke or cold-related emergencies).
Mini-Class ends with a Q&A Session.
$100 per Sports Injury Mini-Class.
Questions & Scheduling –
PHONE: (215)430-3878
EMAIL: Amanda@PreciousMinutesEducation.com
All 2022 Summer Camp Series Mini-Classes will be instructed by PMCST/PME's Founding Director, active EMT, EMS Educator, former 911 Dispatcher, AHA/ECSI Lead Instructor, USA Hockey Assistant Coach, & Mother-of-Three, Amanda Gehringer McDole. Holding all clearances required to work with children in PA, including; recent child abuse clearance, FBI fingerprinting, PA State Police background checks, USA Hockey national clearances, and Amanda is a vetted volunteer for Central Bucks School District.