Updated: August 11th, 2023
*Parents MUST register and complete payment in advance to save

their child(ren)'s spot!*
Questions? Email: Amanda@PreciousMinutesTraining.com
---
Full Course In-Person / Two Sessions (2 hours each)
Monday October 16th

&

Monday October 23rd 2023
Time: 6-8pm both evenings
Location: Northampton Recreation Center – Classroom 3
Address: 345 Newtown-Richboro Rd.

Richboro

,

PA

18954


Registration (FALL PROGRAMS ARE NOT OPEN YET) is being handled by northampton twp. parks & rec –> link
Monday November 13th & Monday November 20th 2023
Time: 6-8pm both evenings
Location: Northampton Recreation Center – Classroom 3
Address: 345 Newtown-Richboro Rd.

Richboro

,

PA

18954
Registration (FALL PROGRAMS ARE NOT OPEN YET) is being handled by northampton twp. parks & rec –> link

---
Full Course In-Person /
One Session (4.5 hours, includes 30 min. lunch or dinner break)
Full Course Online, Live via Zoom / Two Sessions
Note: Public Babysitting Classes have a MINIMUM of 3 Participants (our location) or 4 Participants (alternative locations) or the class will be rescheduled to a later date.
---
Lead Instructor Amanda Gehringer McDole holds all PA State and Federal background clearances to work with children in Pennsylvania as an active Emergency Medical Technician, USA Hockey 12U/14U Coach, and Pennridge SD employee.
Certificate of Insurance is also available upon request as needed for groups/organizations hosting a private/public class.
Private Classes: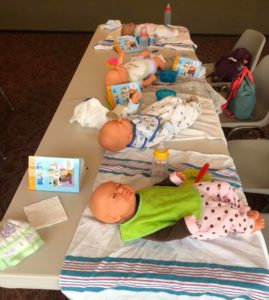 Contact owner for details (215)430-3878 or email Amanda@PreciousMinutesTraining.com
Varies on group size and location – small groups (3-5 participants), medium groups (6-12 participants), large groups (13+), private business, public or community organizations, etc.
---
♥ Babysitter Lessons and Safety Training is a classroom based, hands-on program designed by ECSI and the American Academy of Pediatrics and perfected by PMCST. BLAST is essential for potential babysitters and babysitters who want to learn more! This program is exciting and interactive, providing extensive training in basic pediatric first aid, household safety, and the fundamentals of childcare. Including:
Most current practices for safety and injury prevention while babysitting
First Aid basics for emergency response
Quick reference tools for babysitters
Designed for ages 12 and up (and some mature 11 year olds) this program can prepare children to interview for a babysitting job, select safe and suitable games and activities, prevent accidents, perform choking relief techniques or CPR, and begin babysitting safely and competently.
Participants will practice their infant care skills on training manikins so they can feel as confident with their new skills.
Lesson 1: Getting Started
"Are You Ready to Care for Children?", Sitter Qualities, Being Prepared to Answer Questions, Be a Good Guest!, As They Grow: Ages & Stages, etc.
Lesson 2: Safety First
Before Saying "Yes" to a Job, A Few Important Points, When a Stranger Calls, House Rules and Routines, Safety Rules, Fire, Carbon Monoxide, Weapons, etc.
Lesson 3: Sitter Basics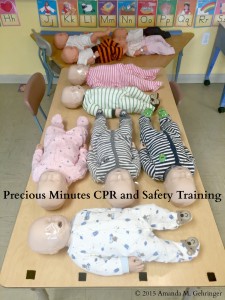 Diapering, Bottle Feeding, Burping a Baby, Spoon Feeding Baby/Toddler, Crying, Preparing for Bed, Behavior Problems, Discipline, Sitter's Checklist, etc.
Lesson 4: First Aid/CPR/Choking
What is an Emergency?, Calling 911 for Help, CPR for a Child or Infant, Choking: Child, Choking: Infant (Under 1 Year of Age), Bleeding and Shock, Bone/Joint/Muscle Injuries, Breathing Difficulties, Burns, Diabetic Emergencies, Diarrhea, Dog Bite, Electrocution, Eye Injuries, Fever, Head Injuries, Insect Stings, Nosebleed, Poisoning, Seizures/Convulsions, Tooth Knocked Out, Vomiting, etc.
Lesson 5: First Aid Kit and Recommended Supplies
Lesson 6: Kid Fun
Games & Songs, Sitter's Busy Bag, etc.