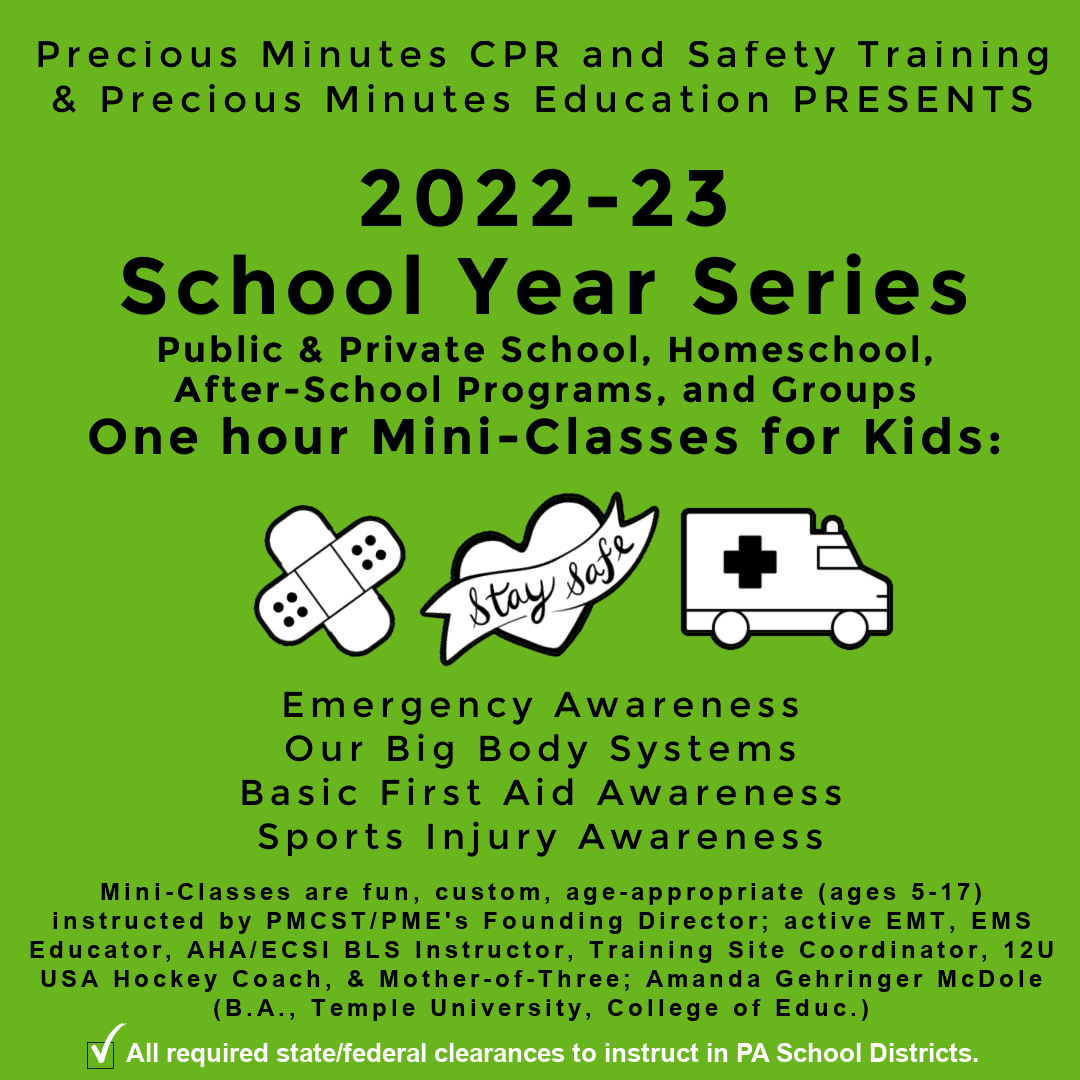 Bucks and Montgomery Counties! We are now scheduling for our 2022-23 School Year Series of one hour or 90-minute mini-classes for kids ages 5 through 17. Classes are usually done onsite at your location but can be hosted at our Training Center in Warrington for smaller groups.
Our mini-classes are fun and age appropriately tailored to grade level and preferred topics, not one size fits all. All classes end with a Q&A session. Mini-classes are $100 for 60-minutes or $150 for 90-minutes.
EMERGENCY AWARENESS:
PME's Emergency Awareness Mini-Class is designed for elementary aged students and is an introduction into Emergency Medical Services (EMS) from an active EMT and EMS Educator and the 911 Communications System from a former 911 Dispatcher. How and why they would call 911, and invaluable tips from experience if faced with a real-life emergency. Never scary, only fun – students will leave their mini-class with a newfound confidence and personal preparedness.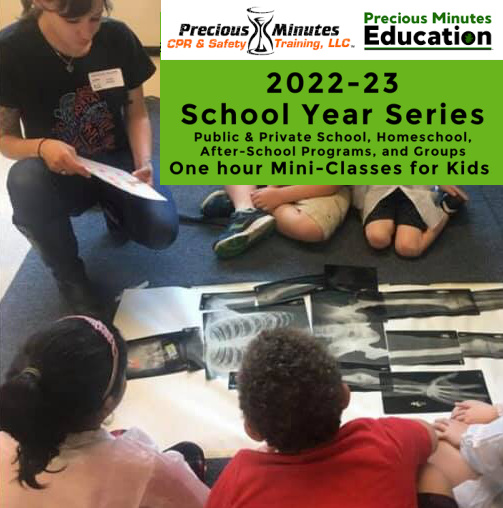 OUR BIG BODY SYSTEMS:
(One of my favorite subjects to instruct with EMT Students and review with my tutoring student EMT Candidates has always been Anatomy & Physiology! – Amanda) PME's Our Big Body Systems Mini-Class is where elementary aged students are given an exciting introduction into specific topics about the human body. We discuss cool facts about our bones, some organs (brain, heart, lungs, skin), and two of our major body systems – our cardiovascular and respiratory systems, with hands-on activities that will have them moving and learning.
BASIC FIRST AID AWARENESS:
PME's Basic First Aid Awareness Mini-Class is designed to give an overview of common illness/injuries children can face when out-and-about, as well as some universal First Aid tips and tricks from an EMT, how to treat and get help, and how to recognize a true emergency. [Note: Never excessively gory, but this class is not suggested for any child who has a fear of blood or medical emergencies, or may become upset by discussing subjects like nosebleeds, vomiting, or external bleeding.]

SPORTS INJURY AWARENESS:
Hockey – Soccer – Football – Baseball – Softball – Dance – Cheerleading – Field Hockey – Basketball – Tennis – Golf – Cross Country – Track & Field – Wrestling – Karate – Rock Climbing – Snowboarding/Skiing – Hiking – and more!
PME's Sports Injury Awareness Mini-Class is custom designed for an individual sport specifically or an overview on a selection of 2-3 sports and will cover the common traumatic injuries found in each particular selection. Including prevention techniques, concussion safety, and/or environmental considerations/emergencies (heat or cold-related emergencies).
---
Questions & Scheduling – Email: Amanda@PreciousMinutesEducation.com
All 2022-23 School Year Series Mini-Classes are instructed by PMCST/PME's Founding Director, active EMT, EMS Educator, former 911 Dispatcher, AHA/ECSI Lead Instructor and Training Site Coordinator, 12U USA Hockey Coach, & Mother-of-Three, Amanda Gehringer McDole. Amanda holds all updated clearances required to work with children in PA, including; 2022 child abuse clearance, 2022 FBI fingerprinting, 2022 PA State Police background check, USA Hockey national background check clearances, and Amanda is a vetted volunteer for Central Bucks School District and Pennridge School District.